NEWS
Sonny Rollins Plays the Bridge
Nancy Paulsen Books/Penguin Press
Kirkus Best Picture Books of 2020
Kirkus Best Picture Book Bios of 2020
NY Public Library - Best Books for Kids 2020
Center for the Study of Multicultural Children's Literature 2020
African-American Children's Book Project Best Book of 2020
FINALIST - Golden Kite, Nonfiction Text for Young Readers 2020
Bank Street College Best Books of the Year 2021
Air & Space Magazine - Best Children's Books of 2020
Evanston Public Library Best Books of 2020
Missouri Association of School Librarians Dogwood Nonfiction List
LibraryAware 101 Great Books for Kids 2020
2022 Texas Topaz Nonfiction Reading List
"An ode to a too-little-discussed musician and an excellent introduction to his amazing musical talent."
Kirkus *starred review*
"An inspiring story of one man's commitment to lifting up himself and those around him with his music.
An American treasure who shouldn't go unsung."
Booklist
"Lewis's expressive watercolors depict the subject's humble country beginnings as well as the joy he felt when he sang and played.
A beautiful, timely tribute to a little-known musician and space venture."
School Library Journal *starred review*
"The inclusion of Johnson's song 'Dark Was the Night' on a recording aboard NASA's Voyager frames this biography, handled with artistry by Golio and illustrated by Lewis in dazzling watercolors.
The volume movingly commemorates Johnson and his music, which 'shined a light in the darkness and finally touched the stars'."
Publishers Weekly *starred review*
The magical story of how a poor blind boy from rural Texas became a legendary musician
--revered by Eric Clapton, Lucinda Williams, Jimmy Paige, and Jack White--
then died in poverty and was forgotten for decades, only to have his haunting song,
"Dark Was the Night," included on Voyager I's Golden Record and shot into the depths of space!
Voyager has now traveled beyond our solar system, but Willie's legacy still inspires here on Earth.

An amazing story of where a human life can lead...
* * *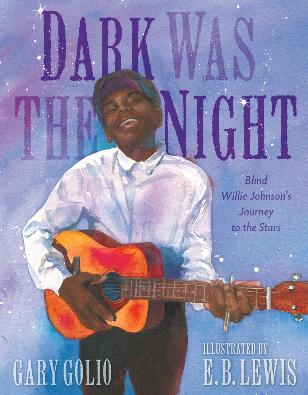 Dark Was the Night - Blind Willie Johnson's Journey to the Stars
Nancy Paulsen Books/Penguin Press
* * *
"Ransome's illustrations convey character, mood and setting to great effect, matching the spare, effective text with energy and vibrancy that tempt readers to seek out Rollins' sound. This meditation on music, art, and integrity offers inspiration and food for thought."
Kirkus *starred review*
"Based on a true story, this charming picture book captures and shares the spirit and rhythm of Sonny's playing. The free verse text makes nice use of figurative language...and Ransome's gorgeous representational art, richly created with watercolor and collage, expands the story beautifully ."
Booklist *starred review*
"The creators' deliberate lines and detailed visuals sing like music themselves as they pay homage to an artist who finds a way to ring out loud and clear."
Publishers Weekly, *starred review*
"Positive representations of Black artists are always welcome additions to library collections, and this work stands out as a biography in verse."
School Library Journal *starred review*
Legendary jazzman Sonny Rollins plays to the Sun and Stars in this dazzling new picture book
about his time on the Williamsburg Bridge.
An inspiring tale about listening to your inner voice with your heart, your head, and your ears.
Mixed-media artwork by celebrated artist-illustrator James Ransome conjurs the noisy city, the bustling Bridge, and the Giant Jazzman himself, to put the reader in touch with the joyous, musical flow of life.
For young readers and the young-at-heart of any age!
* NCTE (National Council of Teachers of English) Notable Poetry Book Selection *

* A Junior Library Guild "Gold Standard" Selection *